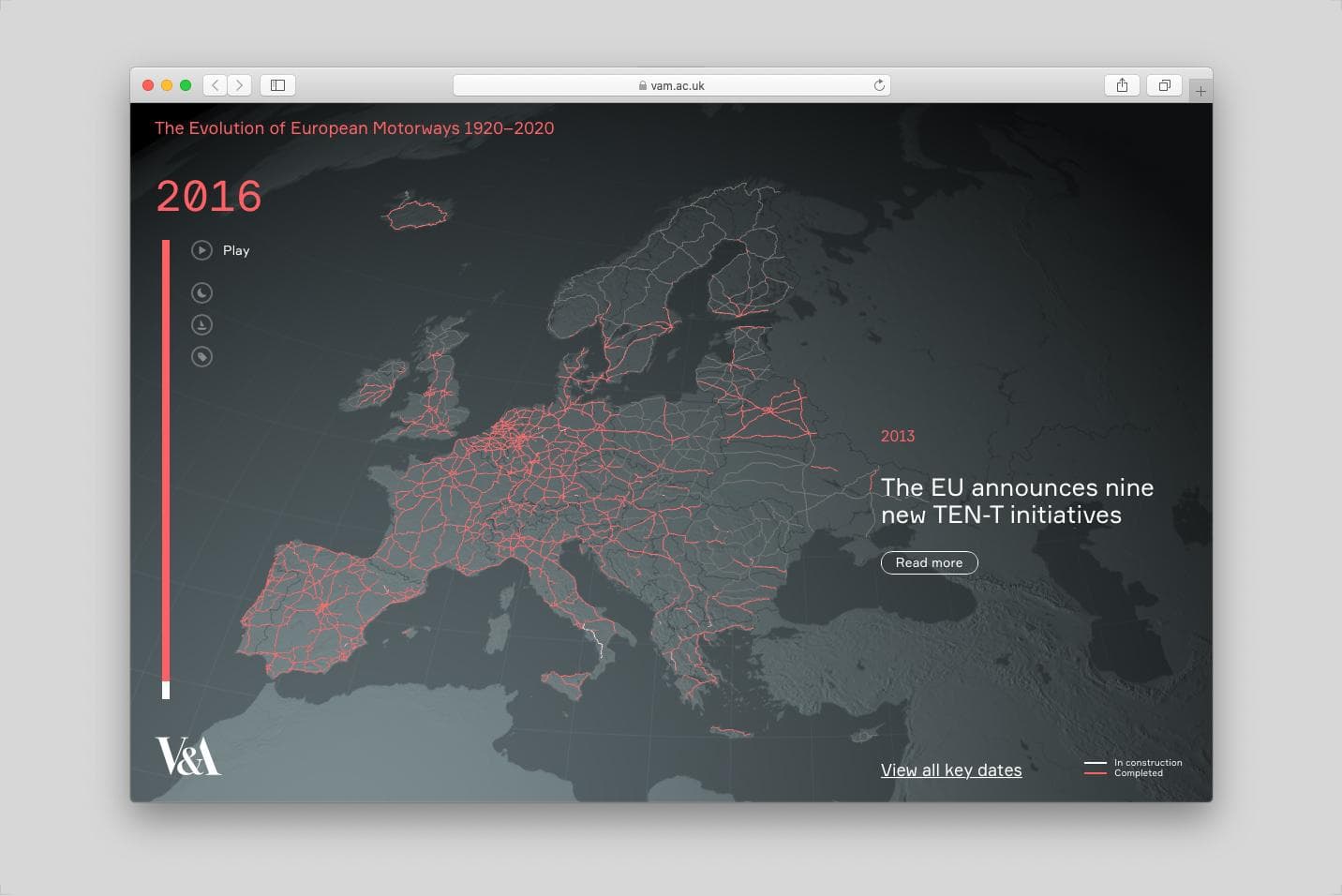 "The Evolution of European Motorways 1920--2020" is an interactive data visualisation that shows the growth of the EU motorways' network over the last century, and provides auxiliary information and insight on the political, economical and cultural context of their national development. From 1924, when the first motorway in the world, the Autostrada dei Laghi---connecting Milan to the lake region north of the city---is completed; through Germany's Reichsautobahn---a plan for thousands of kilometres of highway to be built between 1935 and 1941; the European Union's trans-national systems and transport corridors; until the 2019 announcement of the Russia Meridian highway, stretching from the Belarussian border to Kazakhstan, as part of a 8,000-km highway connecting the ports of Hamburg and Shanghai, the visualisation explores how these networks have fundamentally altered the way people and goods move around, the way economies are governed, and the shape of a continent.
While the initial data have been collected from a variety of publicly available datasets (@openstreetmap, @un_ece, @europeancommission, among others), a lot of work has been put into the analysis, integration, and refinement of the dataset used in the visualisation. The final shapefile has been enriched with starting and completion dates of construction for each single motorway, leading to the creation of a unique dataset, now available on our studio's @github.
"The Evolution of European Motorways 1920--2020" is a special commission by the Victoria and Albert Museum, as part of the exhibition "Cars: Accelerating the Modern World," curated by Brendan Cormier and Elizabeth Bisley. It can be explored online and will be also on show, as a video, at the Victoria and Albert Museum until April 19th, 2020.
Visit the website on http://www.vam.ac.uk/commission/european-motorways-1920-2020
More info and full credit list here